Rev. Lennox Yearwood: HBCU's reward the wrong rappers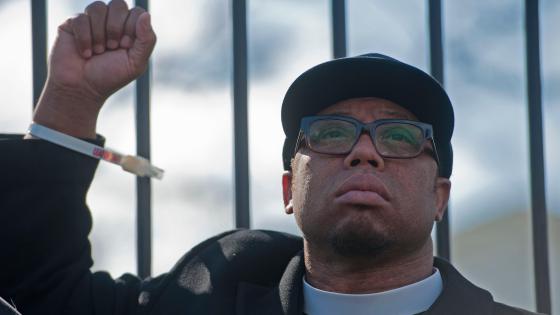 Reverend Lennox Yearwood is a man of faith who's been in hip hop's corner since its inception.
Yearwood is the current president of the Hip Hop Caucus, a youth empowerment organization based in Washington, D.C. Yearwood is responsible for such campaigns as Diddy's "Vote or Die" campaign in 2004 along with Jay-Z's "Rock The Vote" movement in 2008. His new passion is bringing light to how climate control is impacting urban communities.
Rev. Yearwood sat down with theGrio.com's Kyle Harvey to discuss hip hop's activist spirit and the artists he thinks are using their platforms for change.
TheGrio: What have been some of the challenges in your career when rallying the hip hop community for a good cause?
Reverend Yearwood: It's been a great process but also a great struggle. For me, I came into this not being an artist or an entertainer. I came into this really as an organizer so I had a very unique position from the very beginning. The biggest thing is people not knowing how much power they have, and that still exists to some degree. When we first started recruiting artists, they wanted to be engaged. It was great. We had Diddy, and we did Vote or Die. And we had Russell Simmons. Then when we began to move to other campaigns that were considered to be a more liberal, sometimes artists were afraid to get engaged because they didn't want to be kind of "out there." We began initiatives regarding the war on Iraq or in Afghanistan or issues involving the death penalty or education…
TG: Harry Belafonte and other actors never separated their political or social views from their craft. Is it fair to say that mainstream emcees are resistant to support because they don't want to hurt the image they portray in their lyrics?
Yearwood: One of the things that we definitely know moving forward is the fact that hip hop was created by people being displaced in our community, when the cause way in the Bronx was placed the 70s. It displaced or really split communities… That's how hip hop was started, from the destruction and the community speaking out. I want to jump over the music and the lyrics side just to get to the other side. There needs to be a movement saying these are the issues within the community. In regards to the lyrics component, when the movement is weak so is the music.
TG: It seems like there are two different types of movements going on within hip hop. Rick Ross was one of the first rappers to name drop Trayvon Martin in a verse and caught bad press. David Banner, the rapper and activist, said that it's not his job to talk about Trayvon Martin as a rapper, it's his job as a man to make sure that Trayvon's memory is still out here. Is it detrimental to the overall message to have armchair activists in hip hop?
Yearwood: It does have an impact. When historically black colleges (HBCUs) throw money at theses rappers to perform at their homecomings rather than putting them in place where they can enlighten the youth with actions that truly matter, it blows my mind. You're rewarding those who aren't uplifting. Read more at the GRIO