The MUTAFUKAZ Dark Meat City (Vol.1 – French only)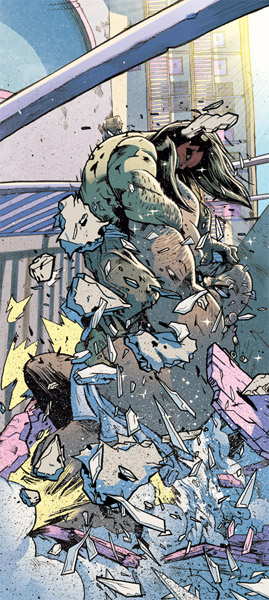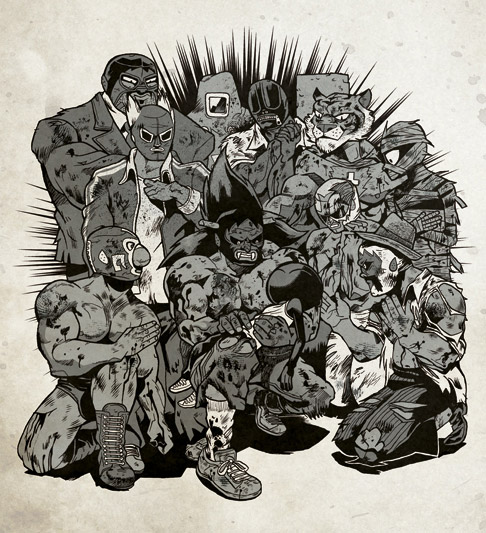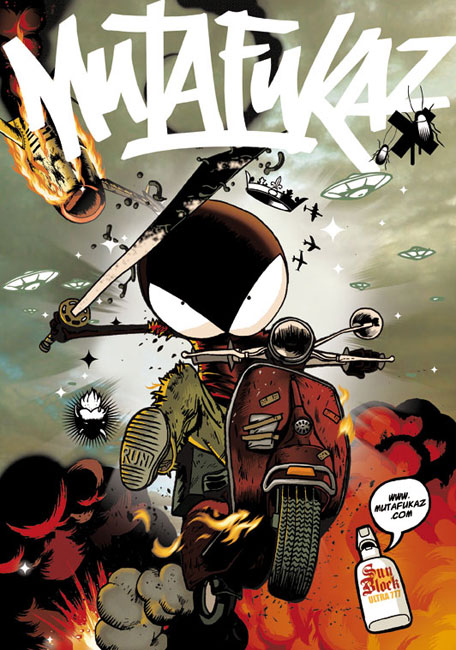 I recently discovered a pretty nice comic book from europe. The story of the comic is below. ENJOY!
Angelino is a young loser just like thousands of others in Dark Meat City. He squats a seedy hotel room in the Latino neighborhood of Rios Rosas. His dreary existence consists of zapping, Mexican wrestling matches (of which he is a devotee), shitty little jobs and so-called metaphysical discussions under the stars with his buddy Vinz. A silly scooter accident is going to plunge Angelino in a whirlwind of improbable troubles putting at stake all of humanity! The manhunt has started, involving massively armed men in black, all sorts of gangs, Mexican wrestlers and even Machos, these vicious cosmic entities determined to invade our planet!!!
Mutafukaz has been inspired by the 50's Sci-Fi mixed with contemporary ingredients such as Hip Hop and wrestling. This cocktail makes it a dark, paranoid but fun comic book.
Mutafukaz counts 124 explosive pages smelling of tacos, cold sweat, bitumen and paranoia as well as an incredible cocktail of Hip Hop, Mexican wrestling and 50's Sci-Fi.
777run bio
RUN aka 777RUN, was born on April 20, 1976.
Both a graphic artist and an illustrator, he finds inspiration in the golden age of Sci-Fi, Z movies and the popular Latino culture to work on his own universe.
He has a rather eclectic artistic background. First he was an Artistic Director for the famous multimedia agency Teamchman (forerunner of the Internet content), where he worked on advertising projects for big trademarks among which Warner Music and Sony Music. Wiser for this experience, he won renown within the graphic artists' group Semperfi (www.semperultimo.com), the international reference in toy design and graphics… He then specialized in video production while refining his graphic universe and started drawing all sorts of skulls and gangsters…
Produced in 2002, the Mutafukaz short film, heralding the comic book, went round the world and was nominated at the Sundance Festival in Salt Lake City in 2003.
Being a lover of visual art and always craving new graphic experiences, RUN ceaselessly changed his style, from illustrations for trendy magazines (Clark, Max, Wad) to fashion graphics (Colette, Com8, FewMany, Feiyue, Swatch, Imperivm). Pioneer of the toy design in France, RUN has been working with the HongKong firm Toy2R since 2003 and launches in July 2007 a series of Mutafukaz Qee, worldwide.