BADMAGICS 2015 favorite 50 hip-hop albums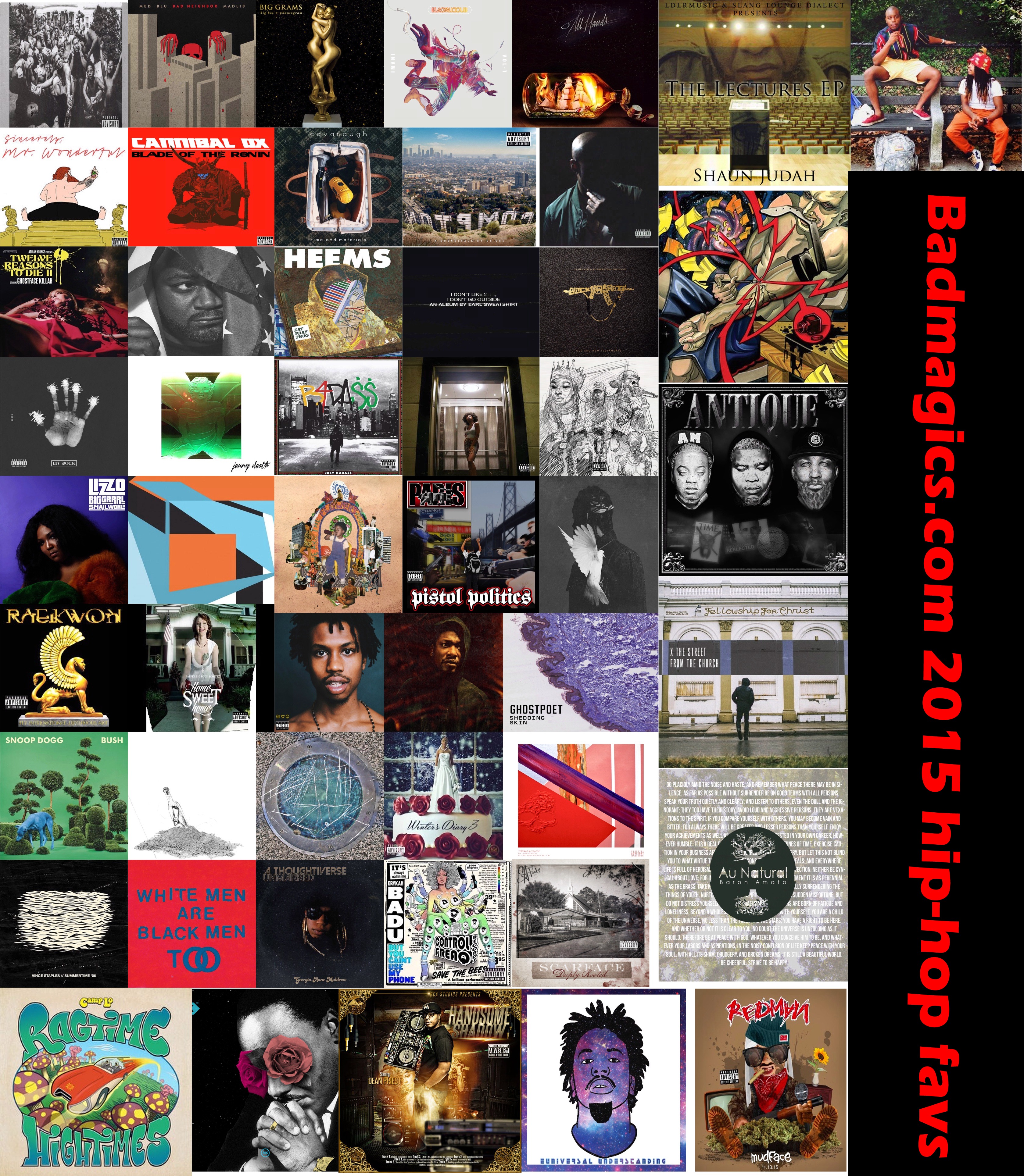 So, Finally I was able to look at the albums that stayed in rotation with me all year with a little help from my badmagic brethren. I am not doing a top 10 cause I prefer to let folks experience the music and I generally try to keep the mantra of posting what sticks with me and I feel deserves more shine. So without further blather my 2015 favorite hip-hop albums are as follows:
1. Kendrick Lamar-to pimp a butterfly
2. Vince staples-summetime 06
3. Pusha T – darkest before the dawn: prelude
4. Dr Dre. Compton
5. Roots Manuva-Bleeds
6. The Death grips-Jenny Death
7. young fathers-white men are black men too
8. Freddie Gibbs-Shadow of a doubt
9. Jay Rock- 90059
10. Lil simz-A curious tale of trials and person
11. Earl sweatshirt- I don't like shit, I don't go outside
12. Lizzo – Big Girl small world
13. Mike Jenkins Waves
14. Med, Blu and Madlib-Bad neighbor
15. Ghostpoet-shedding skin
16. Lupe Fiasco- Tetsuo and youth
17. The death grips- the powers that B
18. Action Bronson- Mr Wonderful
19. Heems-Eat pray Thug
20. Ghostface killah and Adrian younge- 12 reasons to day 2
21. BADBADNOTGOOD and ghostface killah- sour soul
22. Cannibal Ox- Blade of the ronin
23. Joey BadA$$- B4.DA.$$
24. Snoop Dogg- Bush
25. Raury-All we need
26. Raekwon-fly international
27. Doomtree- All hands
28. Big Grams- self titled
29. Blackalicious- Imani vol 1
30. Jasiri X- black liberation theology
31. Paris-pistol politics
32. Cavanaugh-Time and Materials
33. Tink- winter diary 3
34. Monster Rally & Jay Stone-Foreign Pedestrians
35. Camp lo- ragtime high
36. redman- muddy face
37. georgia anne Muldrow- a thoughtiverse unmarred
38. erykah badu- but you cant use my phone
39. shuan Judah-The lecture EP
40. C1ubAM- Antique
41. Baron Amato-Au Natural
42. Haru-the basement tapes vol 1
43. No Suh Foster- X the street from the church
44. Eugenius- Universal understanding
45. Dean Priest-Handsome shadow
46. Denmark Vessy-Martin Lucid Dream
47. G Mane- EUROtrap
48. Rapper Big Pooh- Home sweet Home
49. Nerves Baddington-Self Titled
50. The Monastery-self titled
Now I listened to a lot of dope music this year including several great teaser projects from Sam Adams that I think personally should be on this list but these are the 50 that were regular listened to or placed into our mixes by my friends and I….ENJOY!